ARGO Open 2020
04 Sep 2020

-

08 Sep 2020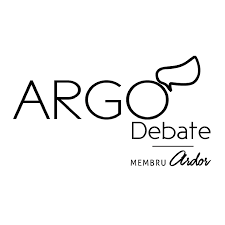 Dear international debating friends
This year ARGO Open will be taking place online!  We are delighted to announce Kallina Basli, from Greece, as our first Chief Adjudicator.
When
– between the 4th until the 8th of September
Time zones
We will be accepting teams from all timezones and we will adapt our schedule according to the number of teams from different regions that we get.
Registration fee
25 EUR / team (of 3,4 or 5) debaters + 1 judge.
Independent judge does not pay any fee.
Schedule
Preliminary Rounds
Friday 4th of Sept: 2 rounds
Saturday, 5th of Sept: 2 rounds
Sunday, 6th of Sept: 2 rounds
Out rounds
– the out rounds will be scheduled depending on the number of teams and the variety of time zones on the 7th, 8th and possibly beyond.
Registration
Today at 8 PM (GMT+3) (that is 5 PM GMT) Registration for ARGO Open 2020 Online will start!
Registration will be per team of 3, 4 or 5 debaters. Each team must bring 1 adjudicator.
The Registration form will ask for: the number of debaters, team name, institution, name of a responsible adult, name of the judge.
Those teams that require a judge waiver please write us a special note in the registration form!