Virtual Event
BDC Fempowerment 2020
18 Sep 2020

-

19 Sep 2020

Virtual Event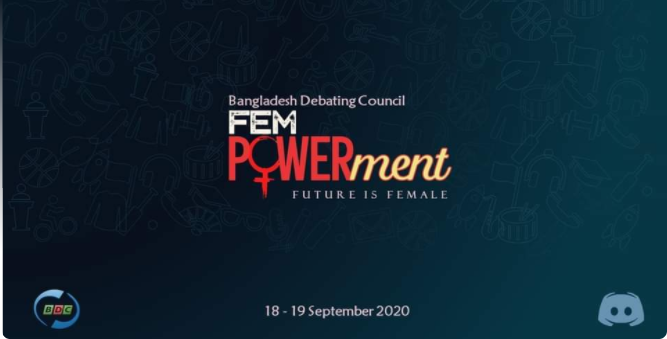 The pandemic disallowed us to host the 2nd edition of the circuit's favorite tournament: BDC Shevolution, despite our best efforts. However, debate dreams and aspirations and our drive towards ensuring female empowerment and inclusiveness in the circuit will not halt. This time, we're hosting the nations first ever online inter-school debate tournament for the girls of the Bangladesh debate circuit!
We invite you to attend the first edition of BDC Fempowerment- our endeavor to take women empowerment to a digital platform! This is also a tournament completely organised by women for women.
The top 10 speakers of BDC Fempowerment will get access to an exclusive training program constituting of specialized training sessions led by some of the circuit's most revered debate heroes. Furthermore, they will also get access to National Camp, the debate boot camp- it's the multi-step selection process that helps the nation determine the 5 individuals who will wave our flag in the World Cup of debating: The World School Debating Championship.
So buckle up for the most exciting and diverse tournament of the country so far!
Tournament details:
Dates: 18th and 19th September
Venue: Online (Discord)
Format: WSDC
Registration Fee: 300 BDT per Team
* Only Female/Non-cis male school students of Bangladesh are eligible to debate.
** All 3 members must be from the same institution except special circumstances, debaters are requested to contact BDC representatives in that case.
Grand Final
Info Slide: You are an individual that suffers from extreme emotions, which has significantly impacted your ability to live a normal life. In periods where you are happy, you are incredibly productive, but in periods where you are sad, you find it difficult to do normal activities, constraining your ability to be completely functional. You are offered a pill that takes away your ability to feel extreme emotion, including both sadness, but also other emotions such as love for your family. The effects of this pill are irreversible.
Motion: THW take the pill
Government:
Viqarunnisa Noon School & College
Opposition:
Sunnydale School
Chair: Vee Nis Ling
Panel: Fardeen Ameen, Fatema Ferdous Prithy, Lubaba Mehzabeen, Nayara Noor, Vanshika Sharan
Winner: Viqarunnisa Noon School & College