WSDC 2000, Pittsburgh
28 Jan 2000

-

05 Feb 2000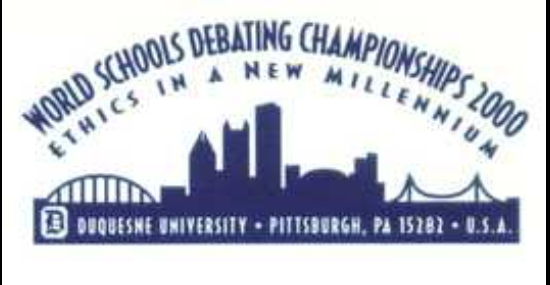 WSDC 2000: Pittsburgh, PA, USA
Results
Grand Final
Australia defeated England (7-0)
Australia:
Simon Quinn
Imogen Saunders
Ryan Goss
Tessa Khan
Coach: Andrea Coomber
England:
Sarah Monroe
Jos Lavery
Seb Isaac
Munish Chopra
Coach: Trevor Sather
Motion: "This House believes that national security concerns justify the restriction of civil liberties."
Judges: Baty (Canada), Brimble (Wales), ni Coitir (Ireland), Paksiene (Lithuania), Oliveiro (Singapore), Albers (USA), van der Steur (Net)
Semi-Finals
England defeated Israel (4-1)
Motion: "This House believes that it doesn't matter whether you win or lose but how you play the game".
Australia defeated New Zealand (3-2)
Motion: "This House believes that the costs of capitalism outweigh the benefits."
Quarter-Finals
Australia defeated Hong Kong (4-1)
Israel defeated Pakistan (3-2)
England defeated Singapore (3-2)
New Zealand defeated Scotland (5-0)
Motion: "This House believes that we should further regulate the Internet."
Octo-Finals
Australia defeated Slovakia (3-0)
Israel defeated Bermuda
Singapore defeated Lithuania
New Zealand defeated South Africa (3-0)
Scotland defeated Wales (2-1)
England defeated Canada (3-0)
Pakistan defeated Ireland
Hong Kong defeated USA
Individual Rankings
The rankings announced at the end of WSDC 2000 are still to be confirmed.
Simon Quinn of Australia was given the Best Individual prize.
Final Team Rankings
1. Australia
2. England
3. Israel
4. New Zealand
5. Singapore
6. Scotland
7. Pakistan
8. Hong Kong
9. Canada
10. USA
11. Ireland
12. Wales
13. South Africa
14. Lithuania
15. Bermuda
16. Slovakia
17. Greece