Summer E-Debate Institute 2020
06 Jul 2020

-

17 Jul 2020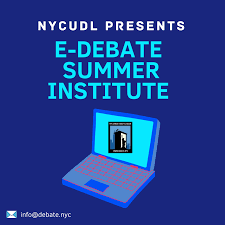 Offerings 
Introduction to Debate: In our introduction class you can expect students to learn the fundamentals of debate which include: public speaking, research skills and basic argument formation. Students will collaborate to incorporate these skills in a debate setting such as in-class scrimmages.
Public Forum: In public forum debate, we focus on enhancing the NSDA standards expected in a public forum round. Some skills include topic specific research on the proposed Public forum NSDA topic along with learning format specific skills in given speeches.
Parliamentary: In parliamentary debate, students can expect to work collaboratively in a more impromptu style. They will learn about various motions that can range from current events to moral issues in society. Students will present these issues in teams of three as they spar their ideas in a competitive setting within their groups.
Policy: In policy debate, we prepare students to tackle the 2020-2021 National High School Policy Debate topic. Students can expect to learn the format specifics of policy speeches along with a focus on criminal justice research for the summer.